PHYS 551 TERM PROJECT
Due: 12/16/99 without fail (or with, if it is late!)
Write a program to solve the Schroedinger equation



where V(r) is a central potential of the form




Take as parameters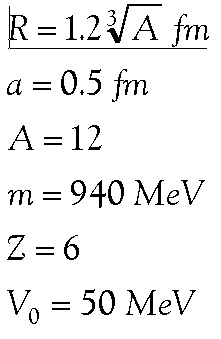 Find the first 2 (bound) energy eigenvalues (each) for



and



and plot the corresponding wavefunctions.
Some things to note (aka hints):
Be sure to scale out dimensional quantities. Also be sure the magnitudes of various quantities are not such as to produce ridiculous results.
Test the differential equation algorithm you are using before embarking on a serious runs with high precision.